I graduated from Farnham with a degree in Fashion/Textiles and subsequently trained as an educator in Art and Design. I divide my time between working in my studio and teaching which I find a perfect balance. As both a textile artist and painter, I have exhibited in solo and joint shows both nationally and abroad and I have demonstrated at events such as the Knitting and Stitching Show and the Festival of Quilts. 
I explore the ephemeral qualities of the natural world and beyond and interpret through painting and textiles. My work records and expresses the seen and almost seen, the flicker and shift, the subtle rhythms of growth and decline at play all around us. I find myself drawn to both broad and more intimate themes and these connections are absorbed and woven together in what I create.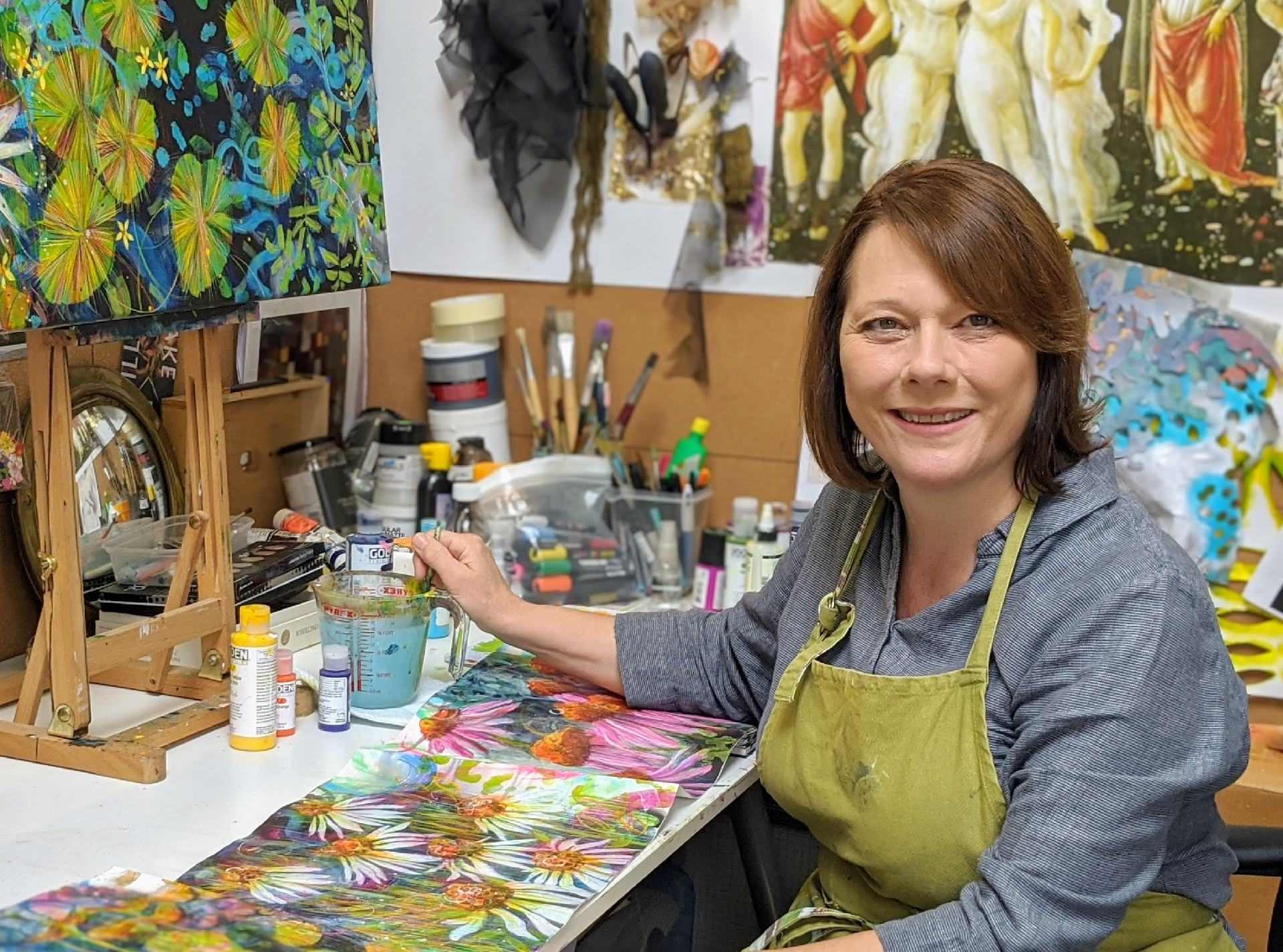 As a painter and a textile artist, I am inspired by light, pattern, texture and intense colour which are the primary features of my work and I love contrasts. I create complex, layered pieces which invite closer inspection. Backgrounds are established by either layering washes of paint or painted layers of sheer fabric such as silk organza and cotton organdie depending in which discipline I am working. I often incorporate gold and silver leaf. Marks are made by directional painted strokes or by stitch to create rhythm and movement. I aim to draw the viewer in to connect at a deeper, more intimate level with my work – it is only when this connection between intention and acknowledgement is made that I feel the creative process is complete. 
Whilst the natural world is my main focus, I am also inspired by artists, literature and culture. I love worn and torn surfaces and textures evocative of the passing of time such as graffiti, rusty old machinery and peeling paint. I take many photos as I'm constantly inspired by what I see. You can view some of these images here – inspiration
I am a firm believer that the desire to create is a fundamental aspect of who we are.  By introducing new creative possibilities to the students of all ages that I teach I hope to support the development of their own visual language. Its wonderful to be involved in a process that may lead to a future painter, designer or textile artist perhaps or to enhance an established creative practice. I find that I am often inspired by my students in return. I hope to offer more adult workshops soon. More information about upcoming exhibitions and workshops can be found here – events
Please click here to view more of my work as a textile artist – textiles
And here to see my paintings – paintings