Artist inspired by nature – My trip to Kew
Welcome to my first ever blog!
As an artist inspired by nature I love a trip to Kew as it is such a rich source for creativity. So, on a beautiful day in August I picked up my sketchbook and headed off to the train station in St Albans. It was my first trip on public transport since we'd come out of lockdown and it was strange to see the stations and trains so empty. I found the juggling of my face mask a bit awkward too.
All was busier as I arrived at Kew. The staff were really welcoming and everyone seemed pleased to be returning to some vague form of normality.
The Waterlily House
Once in, I headed straight for the waterlily house – no surprise there! This was originally built in 1852 to house the giant waterlily, Victoria amazonica, named after Queen Victoria. As well as this there are many other species to see and as an artist inspired by nature,  I was relieved that many were still  in flower.
Inspiration and interaction
I intended to sketch but it was just too hot  so I took lots of photos instead. It was vey calm inside as there was a little more room  because of the restrictions on numbers. It was as beautiful and verdant as ever, the colours were so vivid, and the lilies were mirrored to stunning effect in the water. There's such a variety of lilies, from the giant, waxy Lotus to the tiny and delicate fluffy fringed lilies plus lots of fab creepers hanging around the outside.
I especially loved the contrast between the organic plants and the structure of the roof of the lily house reflected in the water. As an artist inspired by nature I was also very interested in the colour, texture and pattern evident on the surfaces of the various flowers and leaves. Recording all these little snippets of information either by sketching, photographing or note taking or a combination of all three is really helpful to develop the work that follows back in the studio. And as an artist inspired by nature mainly it's the looking, the really close and careful observation that is important to me. All the collected information can be refined and abstracted, usually in my sketchbook first before working up as a more sustained outcome at a later stage.
If you would like to see the ideas in my sketchbooks that are inspired by nature then please click on this link sketchbook or to take a peak at some of my inspiration photos, click here inspiration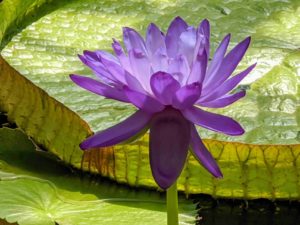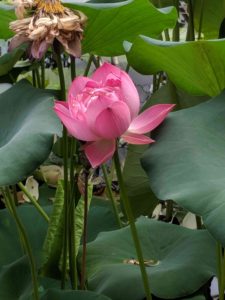 The Palm House
I then headed off to the Palm house to look at the tropical plants and flowers. It was like being in a sauna but again so many textures and colours to record. Again, the structure of the greenhouse contrasted with the plants to stunning effect. As an artist inspired by nature it was fab to see the layer upon layer of variously shaped plant forms and colour.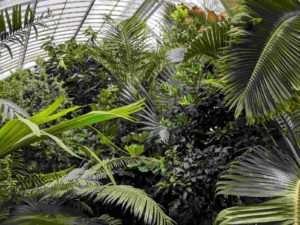 More to discover…
The Princess of Wales Conservatory had some fabulous, characterful cacti on display which took me back to a family holiday in California a couple of years ago. Then a wander along the Great Broad Walk to sketch and photograph the flowers, particularly the Echinacea and Agapanthus. Amazing, rich colours, buzzing with bees.
Unfortunately the galleries were all closed so this time didn't I didn't have the opportunity of studying the work of other artists inspired by nature such as the wonderful Marianne North. For more information about the gallery and her work click here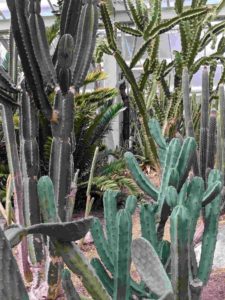 Saturation Point
Finally, I wandered through the  Mediterranean Garden so that I could imagine myself on holiday in Italy, and onto the Great Pagoda. I'd reached saturation point by this time and it was really hot, so I headed for home. I felt so excited – my soul had been truly nourished and I had lots of material to inspire me for months to come. All in all, a successful trip!
To find out more about the Royal Botanic Gardens, Kew, click here
My developed paintings that are inspired by nature can be viewed here paintings and my textile pieces inspired by nature here textiles